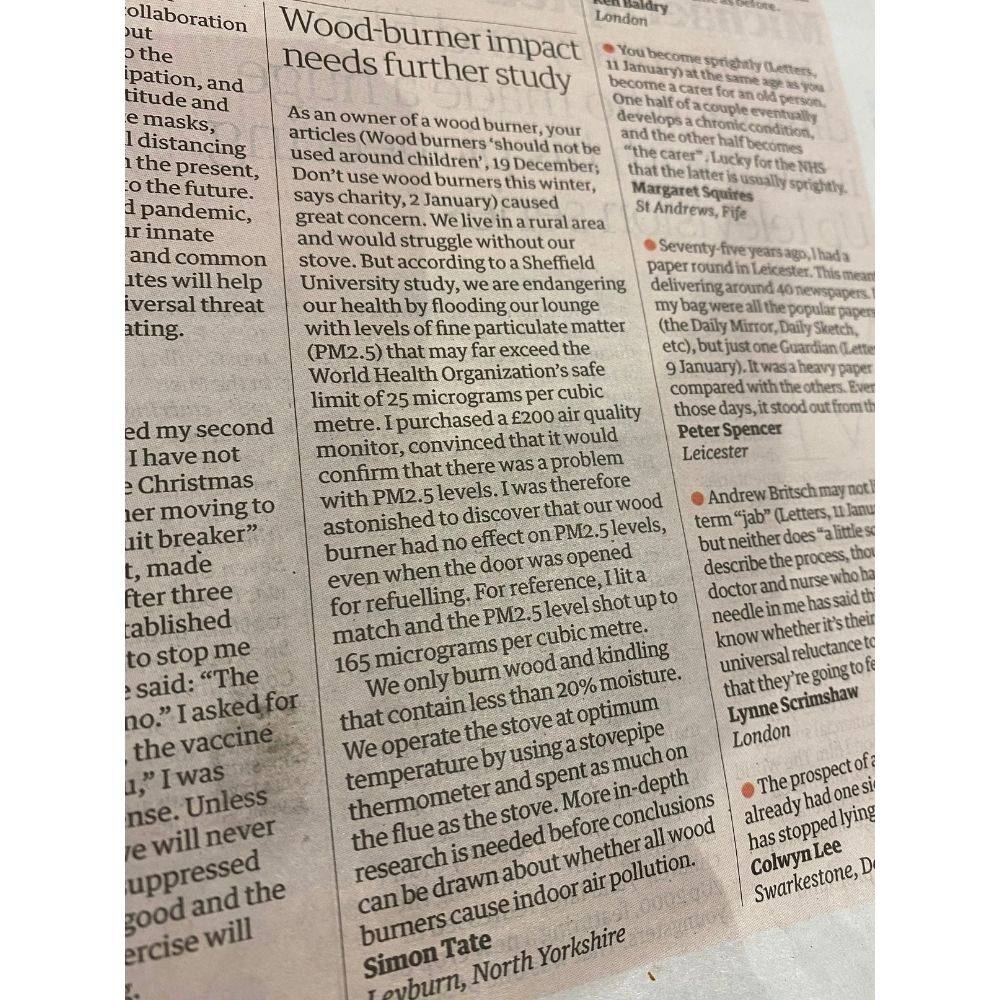 PM 2.5 particles are the smallest particles and are in the air inside and outside of our homes whether we have a stove or not (think the finest of dust particles). It is these particles that are dangerous to health for everybody if prevalent in high enough numbers over long periods of time.
A wood burning stove, correctly working, will not exceed small particle safe-guidelines (I will provide some figures shortly) or come anywhere close. A stove sucks air from the room, drawing particles into the fire and off up the chimney and outside.
The conclusions of a US survey in 2019 by the Journal of Exposure Science and Environmental Epidemiology were that homes without stoves had a Median PM 2.5 of 6.65  µg/m3 whilst homes with stoves were a fraction higher at 7.98  µg/m3J. As a comparison outside air in central London averages 18-25  µg/m3.
Just think about that for a minute: a home has a natural and normal amount of 6.65  µg/m3 PM 2.5 particles all of the time, 24 hours a day (in my home it is usually around 7µg/m3 ). Using a wood stove can increase that a smidgen for the few hours the stove is on (whilst still remaining well within recommended safe guidelines).
So "very safe" becomes "still very safe".
With regard to clean air DEFRA states that their cleanest and freshest air classed is anything under 11  µg/m3. The World Health Organisation's advice is not to exceed annual average concentrations of PM 2.5 of 10  µg/m3n.
Note that this is an average over a whole year so even if your stove was running 24 hours a day, 365 days a year the average PM 2.5 levels would still be within WHO safe guidelines. For most homes, woodburners are only used for a few hours a day, a few months of the year and PM2.5 additions, caused by a stove, are negligible.